---
Message From Chief Jeffrey M. Hadley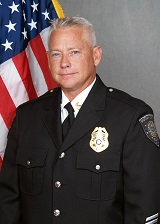 Welcome and thank you for visiting the Chatham County Police Department web page. It is an exciting time at the Chatham County Police Department as we endeavor to build a department of approximately 150 sworn and civilian staff committed to serving the citizens of the unincorporated areas of Chatham County. We will pride ourselves in the professional police services that will be provided with a sincere focus on building a legitimate and trustful relationship with our CCPD Family and Community. Please take the time to navigate our website and learn about the Chatham County Police Department . If you have suggestions on how we can make this web page more informative and helpful please e-mail me at CCPDChief@chathamcounty.org.
---
Who We Are
The Chatham County Police Department serves the unincorporated areas of Chatham County, which is roughly 196 square miles of the County. The men and women of this are highly trained and dedicated to the service of the citizens of their community. These are the core values every member in the department:
Professionalism

Taking pride in our actions, duties, development and appearance

Respect

Treat all people in a dignified and courteous manner, exhibit understanding of all ethnic and cultural diversity, both in action and deed

Integrity

We strive to adhere to moral and ethical principles at all times

Service

We provide quality service in a courteous efficient and accessible manner

Equality

We are committed to treating all people impartially and with unbiased judgment

Honor

We serve with honor through our actions, conduct, and job performance.