---
Message From Chief Jeffrey M. Hadley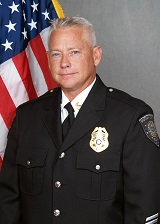 Nothing is more important to the men and women of the Chatham County Police Department than providing a safe community for everyone who lives, works and visits here. Community policing is the foundation of our department, and transparency is an important part of the relationships we continue to build. We want everyone to have a clear understanding of the expectations of every officer, every time they report for duty.
Our Use of Force Policy clearly details how our officers are expected to respond when a situation has the potential to escalate, and might require an officer to act to protect bystanders or themselves from physical harm or death. Chatham County Police Department officers are held to the highest standards, and we encourage you to learn more about our Use of Force policy and training efforts by visiting here.
The Chatham County Police Department adheres to the standards and best practices of The Commission on Accreditation for Law Enforcement Agencies, Inc.
Anyone who believes they have information regarding police misconduct can contact the Chatham County Police Department's Office of Professional Standards at 912-650-6101, or by emailing Capt. Dean Fagerstrom at dfagerstrom@chathamcounty.org.
And, if I can be of assistance, please do not hesitate to email me at ccpdchief@chathamcounty.org.
Proud to serve,

Chief Jeffrey M. Hadley
Chatham County Police Department
---
Who We Are
The Chatham County Police Department serves the unincorporated areas of Chatham County, which is roughly 196 square miles of the County. The men and women of this are highly trained and dedicated to the service of the citizens of their community. These are the core values every member in the department:
Professionalism

Taking pride in our actions, duties, development and appearance

Respect

Treat all people in a dignified and courteous manner, exhibit understanding of all ethnic and cultural diversity, both in action and deed

Integrity

We strive to adhere to moral and ethical principles at all times

Service

We provide quality service in a courteous efficient and accessible manner

Equality

We are committed to treating all people impartially and with unbiased judgment

Honor

We serve with honor through our actions, conduct, and job performance.